Name: Micah
Age: 9
Area: Eastern Europe
Interests: Toys that make noise or move, hands on activities, and hugs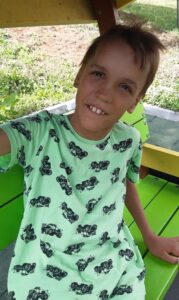 Micah is a sociable and cheerful boy who loves spending time with others. He loves receiving hugs, cuddles, and being tickled. Micah also loves singing songs and play with toys that make noise or move. He enjoys hands on activities and spending time with his caregivers. He is smart and resilient and can walk on his own and follow simple instructions. Micah would thrive in a loving family that will give him attention, play games with him, and care for his medical needs.