We have three open spots in our Choices program due to recent matches! Anyone in North or South Carolina is welcome to join our domestic infant program. We limit our waitlist to 15 families at a time and believe that we strive to support the adoptive family, the adopted child, and the birth parent(s). Let us serve you and help grow your family!
Adopt through our domestic infant program, offered currently to families living in North Carolina and South Carolina!  Call now to speak with us about adoption in North Carolina and South Carolina (336) 483-4081.
Our domestic adoption program, pairs birth parents in North Carolina and South Carolina with families seeking to adopt. We are committed to making each adoption experience completely personalized based on the preferences, wishes and needs of both the adoptive family and birth family. We know that "not one size fits all" when it comes to adoption, so we work to customize services to each individual experience.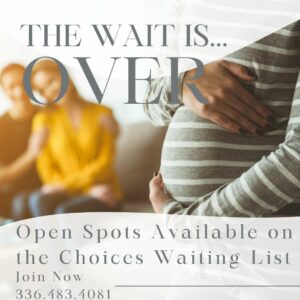 About the program:
Our adoptions are local to North Carolina and South Carolina.  This local aspect makes our program not only more personal, but also less expensive. We conduct our outreach to birth hospitals, OB/GYN clinics, pregnancy centers and other places personally. This cuts down on families' expenses as well, as extensive travel is taken out of the picture.
Our matching is a personal experience.  Each waiting adoptive family makes a photo scrapbook portfolio that is designed to showcase your unique family unit.  Our staff personally gets to know every adoptive family and expecting parent who comes to us for help. We present several families to each potential birth parent based not only on their stated preferences, but on our many years of experience in adoption, to help make the best match for each baby.
If you are interested in becoming an adoptive family, you must apply to first complete a domestic home study.  Upon completion of an approved Home Study, a family may request to join the CHOICES program.
Adoption is a life-long journey, and we are committed to advocating for the best experience for each member of the adoption triad:  the adoptive family, the birth family and the adopted child.