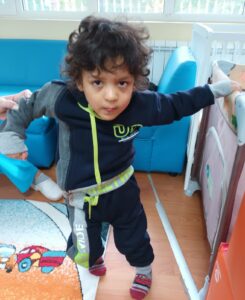 Brady is a sweet and calm little boy who loves receiving attention from his caregivers.
His smile lights up the room and he is very determined- he is currently learning to walk without assistance! Brady loves to play and some of his favorite toys include balls, cars, and toys that make music or rattle. He also enjoys movies and songs and would love a forever family that will teach him new songs!
Brady has so much love to give and would thrive in a loving family that enjoys playing, singing, and spending quality time together.