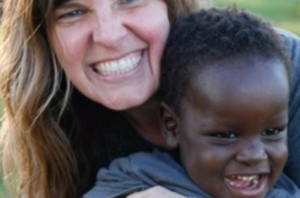 Children's Adoption Services will work with you to gather the necessary documents needed for your adoption dossier. his paperwork is for the adoption attorney, the orphanage and the Ugandan Government.
Children's Adoption Services works directly with partner orphanages in Uganda. The baby homes care for babies and children up to 8 years of age, provide basic medical care, and schooling.
Dossiers are reviewed in the order they are submitted. The wait for a referral may be 3 to 6 months. Upon acceptance of the referral, preparations are made for your immediate travel to Uganda.
CAS works with respected law firms in Uganda. Their staff will guide you through the court proceedings and other legal processes. After a court decision is reached, your adoption will move toward the finalization process with your child's visa at the US Consulate in Kampala.
About the Country
The Republic of Uganda is a country in East Africa bordered by the nations of Sudan, Kenya, Tanzania, Rwanda, and the Democratic Republic of Congo. The capital city of Kampala is a port on Lake Victoria, one of the three largest freshwater lakes in the world, and the largest in Africa. Uganda is a unique and special country for wildlife, attracting tourists from around the world to its national parks. Endangered mountain gorillas, elephants, lions, giraffes, zebras, and chimpanzees are among the special wild species in Uganda, but also the United Nations are working to protect. The Republic of Uganda established its independence from Great Britain in 1962. There are more than 2 million orphans in Uganda, the highest number of any country in the world. English is the official language of Uganda and is taught in schools.
What to Expect when Traveling
On June 2, 2016, the Children-Amendment Act went into effect in Uganda. Among the changes in requirements with this Act is a regulation that non-Ugandan Citizens seeking to adopt from Uganda must live in Uganda and foster their children for a period of 12 months. At the end of 12 months, a petition may be submitted to the Ugandan Court requesting a court hearing and once the adoption decree is issued, families must apply for their child's visa with the US Embassy in Kampala. Families should anticipate living in Uganda for a minimum of 15 to 18 months.
The goal of our staff in both the United States and Uganda is to make your time in Uganda as smooth as possible so you may enjoy the time with your child and enjoy learning about his or her home country. CAS has developed a trusted network of partners in Uganda who will support families during their time in the country. Your CAS International Specialist will also be available to you at all times.
Before you leave, your International Specialist at Carolina Adoption Services will educate and prepare you for every step of your adoption journey in Uganda.
While in Uganda, you will be in the caring hands of our local partners. There are numerous rental apartments and homes in Uganda for families who will live in Uganda for the time spent in the country. Spending an extended period of time in-country affords you a wonderful opportunity to gain first-hand experience of the Ugandan culture and to see what life is like for children at the orphanage. Your International Specialist will also maintain regular contact with you during your time in Uganda.