Parker is a very sweet little seven year old who is described as positive, smiley, and calm.
He loves to be around people and children, as well as listening to music. His favorite toys are toys that play music and rattles. Parker currently receives additional support for his special needs which include congenital abnormalities, background retinopathy, and epilepsy. Despite these additional needs, Parker is a happy little boy with the sweetest smile. He would thrive in a loving family who can provide him with attention and medical care.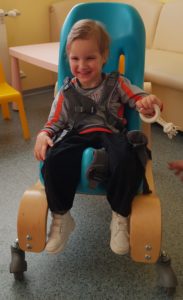 If you have room in your family and have a heart for children with special needs, Parker would be a lovely addition to your family!