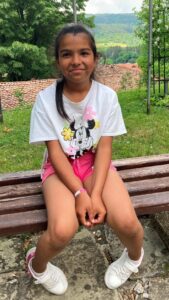 Brynn is a 9 year old female who is described as shy and calm.
She is in the 4th grade and her favorite subjects are language and literature. Brynn enjoys spending time with her friends, painting, playing games on her phone, playing chase, and dodgeball! Brynn has 5 siblings with whom she wishes to be adopted with- Vivian (14), Aiden (6), Brook (5), and twins Zack and Micah (4).
If your family loves playing games, spending time together, and has room for this fun-loving sibling group, please contact us today!