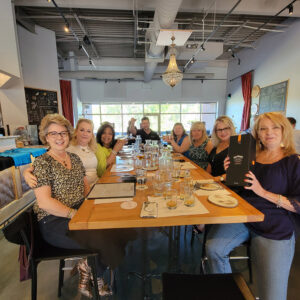 Children's Adoption Services (CAS) hosted a Foster to Forever Family fundraising community event in joint with local restaurant GIA, bringing awareness to our services in adoption and soon foster care, and a way to extend awareness in our local community, and among friends and families.
At Carolina Adoption Services, we strive to create relationships with our families and walk with them during the adoption journey.  This event gave guests an opportunity to kick back, relax and enjoy a fun afternoon hosted at GIA!  This special afternoon featured Jack Daniels paired with amazing samplings of GIA's small bites which included an amazing pasta dish, special breads and a delightful salmon dish.  GIA set the mood with Big Band music featuring Frank Sinatra and Dean Martin as they walked guests through the history of Jack Daniels, who himself was a foster child.  The event ended with a raffle for a bottle of Sinatra Jack Daniels, which was won by our guest Jan!
We thank all that participated in this fun event, all those who contributed to the Foster to Forever Family fundraiser as we are getting ready to launch this amazing program for kids in foster care.
We are grateful to be able to build and strengthen relationships among our families and in our communities. We also would like give a huge thank you to GIA for hosting and creating a fun atmosphere for this special afternoon! @giadrinkeatlisten: Teresa, Kim, Janice, Jan, Lorri, Joanne, Kristi, Patrick, & Arianne Roy.
For more information about GIA and the events they host, visit https://www.drinkeatlisten.com
Funds raised go to programs at CAS which is a 501(c) 3 charity organization.